A few times ago, the ice cream parlor and Kiosk used pre-made ice cream cones to serve their product. In those days, this way worked to serve people because the competition was very low. But the trends for ice cream cone sleeves have totally changed nowadays. Let's take a tour to find what is going on in the industry.
Recent Trends for Ice Cream Cone Sleeves
In recent times, the trend of simple sheet wrapping around the biscuit waffle cones is old. Nowadays, people love the designs and presentation of your cones with quality and delicious taste. Therefore, waffle cones sellers need to adopt the tactics and packaging solutions that market their products as well as help to create your brand reputation. So, your ice cream cones must follow the enlisting standards to make your name word of mouth.
Quality Paper
Mesmerizing design
Leakage proof cones
Promotion ice cream cones
Unique and creative
Placing meaningful logo
Why Does Ice Cream Design Matter?
Although the above-explained chunks are mandatory, the designs are the most grasping elements that attract many consumers. Also, it helps to change their mind and taste your ice cream cones. The use of designs doesn't mean focusing on creating designs. You need to plan where you place content and what font style you can use that goes perfectly with your brand. And you plan all elements for designs by ordering customized and unique ice cream cone sleeves online. These custom cone sleeves are available in various sizes and materials, so you can pick as per our choice. 
Best Design for Ice Cream Cone Sleeves
Now it's time to look at versatile designs of ice cream cone sleeves for your ice cream shop. Add to this; some designs connect with logo placing, and some relate with font designs because many brands want to design their cones with text and stylish fonts. 
Ice cream Cone Sleeve with Mascot Logo
The use of the logo on your ice cream cone sleeves helps you to grow in the industry. As you know, the logo is the tool that superbly works to grow your business in the industry. So, your logo must explain your brand values and message to their customers. In the industry, multiple logos are used to deliver the brand message. Here are some types of logos that you can use for your ice cream cones. 
Word mark
Letter mark
Symbolic
Pictorials
Mascot
Basically, the mascot is a creative and funny character that works for your brand growth. These characters are famous for the passage of time and keep in the mind of customers. Also, you can use this logo to print ice cream cone wrappers wholesale to serve bulk customers. 
Colorful Sprinkles Printing Design Pattern
The colorful ice cream covers printing fetching kids as well as adults to change their mood with yummy ice cream. As similar to multiple design patterns for enchanting ice cream cone sleeves, the use of vibrant sprinkles printing allows an engaging and fabulous look to your ice cream. These sprinkles are available in two types of themes that are enlisting below for you.
Citrus hues
Rainbow colors
Multicolor edible faux pearls balls
Creamy Ice Cream Printing on your Cone Sleeves
Another printed design is to apply the creamy and yummy ice cream cones on the covers. Such sort of design helps you to deliver the message what you sell to your reputable customers. So, you can print colorful ice cream cones with high quality and mouth watering toppings to engage the audience. In this regard, you can build the perfect color that you want to see in your cones with the help of CMYK and PMS.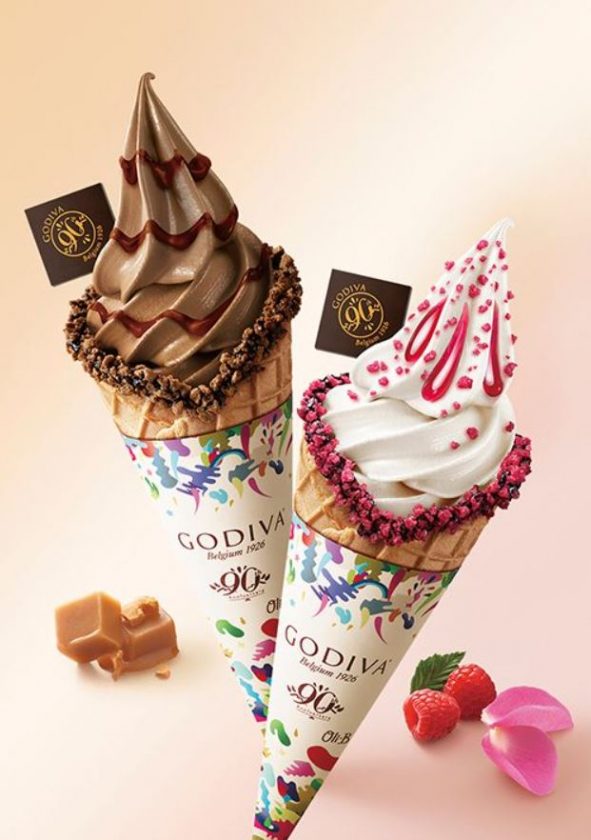 Multi-Colour Lines Printing for Pretzel waffle cone Sleeves
Many ice cream parlors use pretzel waffle cones that are crunchy and salty. It is appended with salt sprinkling and becomes tastier when your customers take a bite of ice cream cones. To cover these cones, the use of multicolor lines is also common in the industry. You can choose combination according to your desire and flavors to make the perfect combination
Rose Gold foil Ice Cream Cone Sleeves with Text-Based Logo
The use of aluminum foil is common in the industry to ensure the durability of your ice cream cones. Most of the brands use gold and silver foil for cone sleeves. But the use of rose gold foil with a dark shade logo gives an appealing look to your ice cream cones. Plus, you can use silver foil with rose gold color to draw lines on your cone sleeves to attract your users.
Pacifica font style Printed Ice Cream Cone Covers
If you don't have too much cost, then you can go only print your brand name with a unique and cool font style. On this subject, you need to get custom size and style of fonts for your brand that must be unique and copyrighted. So, you can buy Pacifica font style to print content on the ice cream cone sleeves.
Ice Cream Sandwich Font for Waffle Cone Jackets
One more thing you add in your waffle cone jackets that attract your users is to use sandwich font style. For this style, you need to pick the auspicious colors for your waffle cone sleeves font style through PMS and CMYK. It is important because you need to design the cones with this font style. These font styles have two layers of colors. One is a white or lighter shade, and the other one is a darker shade. The use of white and light color provides a soft edge to your ice cream content.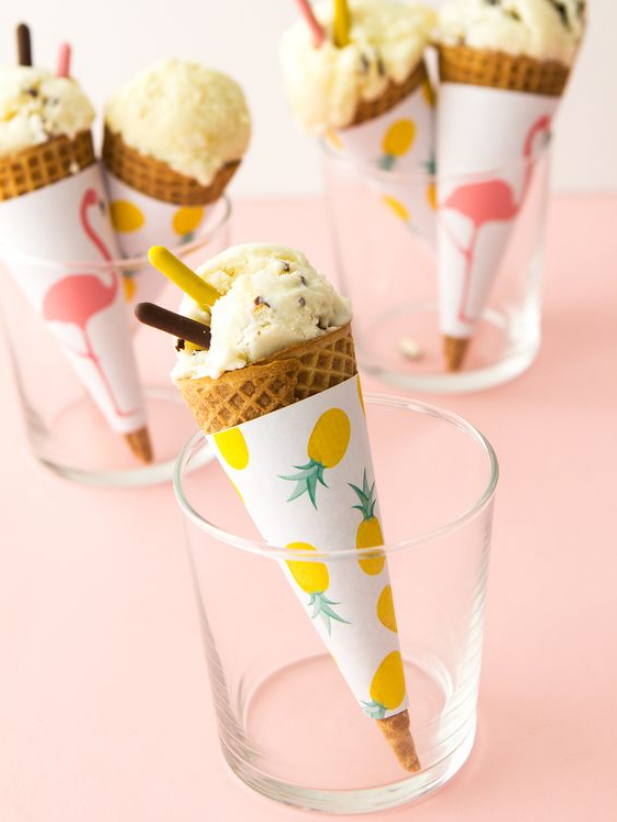 Use of Alphabets in Each Ice cream Cone shape for Cone Sleeves
Open the doors of creativity and find some things beyond printing simple text. For this purpose, you can play with shapes and font styles to give a splendid and chic look to ice cream cones. So, you can buy custom font styles or contact designers to design font styles as per your choice. The best way is to print one alphabet of your brand name in one ice cream cone. Using this tactic, if your name consists of six letters, you print six cones that have each letter. 
Read Also: Staying Fit In The Era Of Technology
Bubble Gum Style of Font Text Printing on Cone Sleeves
The bubbly effects give a cooling and pleasant view for your customers. So, adopting a bubbly font style for your ice cream cones is a fantastic choice, and simply printing some text on ice cream cones with this font style looks amazing. For this purpose, you can use citrus hues, cool colors, pink family shades, and muted tones. Such sort of ice cream cone sleeves are also recognizable, and kids are easily attracted to buy cones.
Gaudi Ice Cream Cone Sleeves
Gaudi Ice cream cones sleeves were created by influencing the work of Antoni Gaudi was a Spanish architect. These ice cream cones sleeves have Gaudi architectural marvel patterns in various vibrant and sparkling shades. This style is quite unique and creative, so you can adapt it as per your choice. 
Sum up –How Do These Designs Promote Your brand?
So, the use of logo and unique font style in ice cream cone sleeves designs engage more audiences, especially kids, to buy ice cream cones.  In this regard, you can use various patterns, logos, rose gold foil, use of alphabets, bubble gums style fonts, cream melting designs of fonts, mascot printing, and many other options. So, make your ice cream cone covers fabulous with distinctive designs and the delicious taste of your ice creams. 
I hope this discussion fully helps to create engaging ice cream cone sleeves.